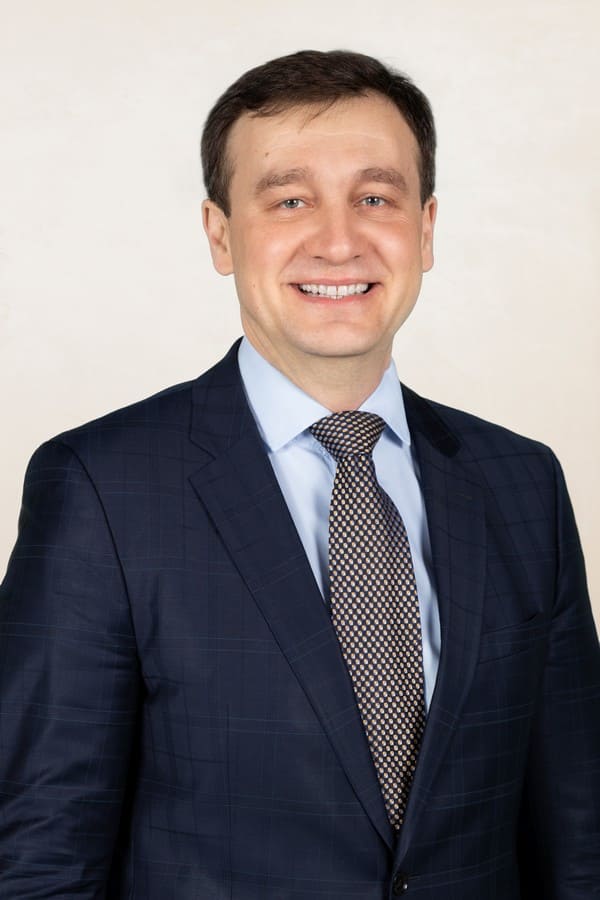 Managing Partner
Ph.D. (Law), Russian Patent, Trademark & Design Attorney, Eurasian Patent Attorney, Attorney-at-Law (Moscow Advocate's Chamber), Vice-President of the Russian National Group of AIPPI, Vice-President of the Russian Patent Attorney's Chamber, Member of the Council on Intellectual property Issues of the Federation Council (the Upper House of the Russian Parliament), Member of editorial board of the «Patent Attorney» magazine
Aleksey Zalesov is a renowned litigator in complicated IP cases. Having almost 30 years of experience as leading IP practitioner and combining a unique theoretical background in physics and law distinguishes him in IP field.  He is well-respected by his colleagues and clients and is one of few who is capable to find a solution in any matter.
High qualification speaks for himself in international ratings by clients and colleagues: «IP mover and shaker», «Straightforward, uncomplicated, reliable and swift, he's excellent to work with», «He is very persistent, very educated and has excellent English skills», «responsive and easy to work with», «well-credentialed attorney»[1].
Aleksey Zalesov has been leading IP litigation counsel with major law firm in Moscow from 2001 to 2017. He has practiced IP law since 1993 and has dealt with more than 350 patent and trademark litigations before Russian courts and administrative bodies including the Supreme Court of the Russian Federation and Presidium of the Supreme Arbitration Court of the Russian Federation.
Scores
Dr. Zalesov has prevailed in many precedent-setting cases, including:
the first successful online trademark enforcement action and recovery of damages;
the first successful database copyright enforcement, with significant damages recovered;
the first pharmaceutical patent enforcement, with significant compensation for damages;
the first successful recovery of moral damages in a patent infringement case;
the first successful enforcement of an appellation of origin;
successful defense of pharmaceutical product manufacturer against infringement claim based on method of treatment with produced product.
Expertise
Dr. Zalesov specializes in patent litigation, including infringement and validity trials. He is well-known for the successful invalidation of more than 70 Russian and Eurasian patents, mostly focusing on pharmaceuticals, applied science and electronics while the amount of successfully defended patents in validity trials is over 85. Dr. Zalesov is a guest expert of the Rospatent Quality Council - a permanent Expert Panel presided by the Head of the Russian Intellectual Property Office aimed at discussing the complicated cases adjudicated to improve Russian Intellectual Property Office activity.
Dr. Zalesov is a member of the Council on the Intellectual Property Issues established by the Federation Council (the Upper House of the Russian Parliament) aimed at providing expert opinions on the bills concerning IP issues.
Clients
Dr. Zalesov has represented major foreign and Russian clients in court and the Chamber for Patent Disputes (e.g. Teva, Novartis, Ferrero, Nestle, Canon, British American Tobacco, KRKA, Swiss Pharma, Polpharma).
Qualification
In addition to a Master's degree from the Moscow State Law University and a Ph.D. in law from the Russian State Academy of Intellectual Property, Dr. Zalesov holds a Master's degree in physics from the Moscow Engineering Physics Institute. He is registered as attorney-at-law (member of the Moscow Advocate's Chamber), a Russian patent, design and trademark attorney and  an Eurasian patent attorney.
Membership
Dr. Zalesov serves as Vice-President (served as the President in 2009-2020) of the Russian group of the International Association for the Protection of Intellectual Property (AIPPI) and Vice-President (served as the President in 2012-2018) of the Russian Patent Attorney's Chamber. As a member of the Russian State Academy of Intellectual Property and the Moscow State Law University (IP section) Dr. Zalesov regularly contributes to academic studies in IP law. He is also an expert of the Rospatent Quality Council and Member of editorial board of the «Patent Attorney» magazine.
[1] According to international ratings iam 1000 (2020) and WTR 1000 (2021).