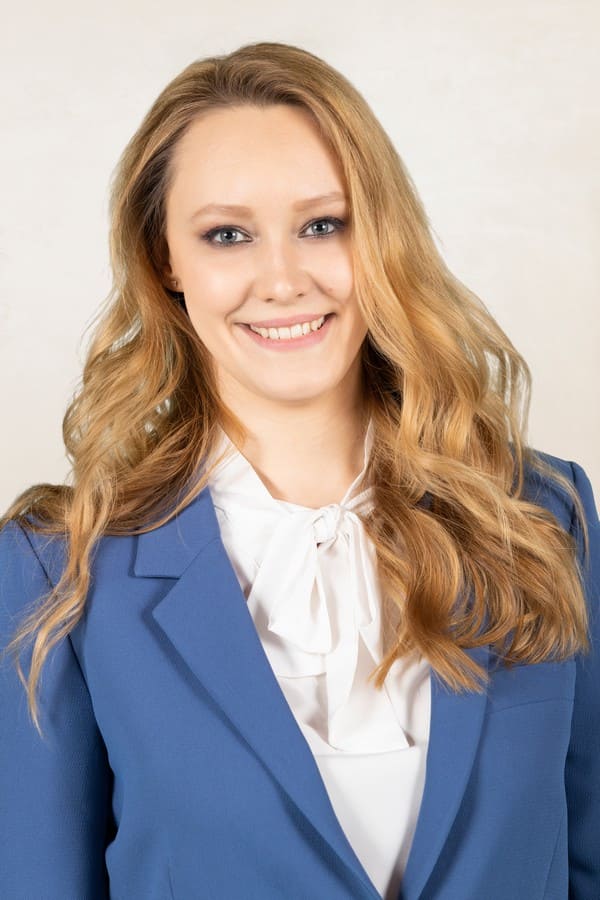 Senior Associate
LL.M. IP (Munich), Russian Trademark Attorney, Member of MIPLC Alumni Network
Anastasia Zalesova has started her career specializing in intellectual property law in 2010 and since then has been focused on improving her theoretical and practical IP background. In addition, being very attentive to details, understanding commercial concerns of clients as well as having excellent English skills, made her a valuable team member. Anastasia is also a frequent speaker at international IP events.
Expertise
From 2011 to 2013 Ms. Zalesova worked in the legal department in one of Big Four companies, focusing on consulting mostly foreign clients on Russian intellectual property regulation, carrying out due diligence of IP objects, and assisting in transactional matters, in particular, licensing and franchising.
Ms. Zalesova also practiced at two major German patent firms (in 2014-2015), where she gained priceless experience in consulting and enforcing intellectual property rights, especially on trademarks, by getting acquainted with the approaches to protect intellectual property objects from her German colleagues.
From 2015 to 2019 Ms. Zalesova worked as an associate at one of top international law firms, in intellectual property, media and technology department, where her extensive theoretical IP background and practical experience was implemented into different fields of IP law. Ms. Zalesova has regularly advised on various aspects from prosecution to enforcement worldwide. Her day-to-day work included trademark prosecution from filing a trademark application, overcoming provisional refusals in trademark protection and appealing PTO's decisions to dealing with trademark enforcement as trademark infringement and non-use cancellation actions. The wide scope of her work also included copyright enforcement, domain name disputes, and transactional work. Anastasia assisted clients in customs issues (customs recordal and litigation) as well as pre-trail work (drafting cease and desist letters as well as negotiations with opponents) and litigation.
Ms. Zalesova has joined «A.Zalesov & Partners» in 2019 and since then has been involved into many aspects of contentious and non-contentious IP matters in CIS countries and  Georgia, Turkmenistan, Ukraine. Her field of practice (besides broad experience in trademarks, copyright, trade secrets, domain names, and transactional work) is extended to advising clients on patents and unfair competition matters.
Clients
Ms. Zalesova has advised one of the largest toy manufacturers on trademark and copyright enforcement in Russia and CIS countries, including representing the client before the police, customs authorities, and court; a famous food manufacturer on trademark enforcement and customs issues; a large telecommunication company on trademark prosecution and enforcement in Russia and CIS countries; a leading Russian producer of distilled spirits on IP contentious and non-contentious matters worldwide; Russian and Swiss pharmaceutical companies on trademark prosecution matters; Russian oil company on patent enforcement case and many others.
Qualification
Ms. Zalesova graduated from the Russian Foreign Trade Academy, Foreign Law Department, where she obtained a lawyer's diploma and a diploma of professional interpreter (from English to Russian and from German into Russian).
She is a registered Russian Trademark Attorney.
Ms. Zalesova's skills and background has been enriched during her studies in master program at Munich Intellectual Property Law Center, Germany. This LL.M. program «Intellectual Property and Competition Law» is designed by leading world universities (Max Planck Institute for Innovation and Competition, The George Washington University Law School, Die Technische Universität München (TUM)). Ms. Zalesova has obtained her LL.M (Munich) degree in intellectual property and competition law in 2014.
In 2020 Anastasia has obtained a postgraduate degree from the Russian State Academy of Intellectual Property (specialty «Law»).
In 2021 Anastasia has completed a master program on business management in the Higher School of Economics and received a master degree with honors.